Professional Twin Cities TV repair
Our company specializes in
TV repair in MN
. We repair of all types of television sets and technologies, from the classic CRT to the latest technology of LCD, LED, DLP, Plasma, and CRT HDTV. Providing factory trained in and out of warranty service for 40 years on most brands is what sets us apart from other servicers. We are proud to be part of the ever changing electronics industry.

When our family business started in 1970, TV sets were quickly moving into solid state, or transistor circuitry. Since that time, there has been the introduction of Beta and VHS VCRs, camcorders, Compact Discs, DVDs, Blu-ray Discs, HDTV, and now 3D HDTV. All of our technicians have been involved with electronics for over 30 years and are very excited that HDTV 3D is finally here. They keep up with technology as it comes and goes so you can rest assured that we know about the TV you own.

Our technicians will use their many years of experience and repair your TV to the highest industry standard. The modern TV can have many pitfalls beginning at hooking it up to operating it. Call today if you have any questions--we will be glad to help. Are you having trouble determining if your projection lamp is bad? We stock most styles of lamps. Call for tips on what you need. Our friendly staff will provide high quality repair at an affordable price. You can drop your TV off at our Eagan location for
Minneapolis TV repair
or
St. Paul TV repair
or we can come to your home.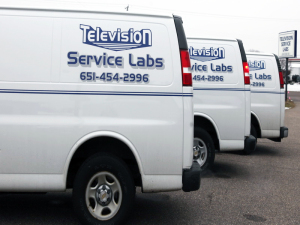 "Excellent service! My samsung TV stopped working; wouldn't even power on. I brought it to Television Service and they had it fixed by the next day! Very friendly and helpful. Will return if I ever have another TV problem again"!! Google review
We service and repair any LCD TV, LED TV, DLPTV, Plasma TV, CRT HDTV, and 3D HDTV.